Walking Three Bar T Publishing, Inc.
Exciting, intriguing, and entertaining!!! I couldn't put it down!!!
Jackie Boyd
Praise For Waltz Against the Sky
As characters in Glen Larum's Waltz Against the Sky drift toward a small town in Texas, their stories are braided into a lariat that cinches their fates together. Like a Tony Hillerman New Mexico novel, Waltz puts the sere, flat landscape back into moral order by following a bloody crime, a violent chase, and a courtroom drama that entangle the lives of ordinary people. Evan Blaine, a young newspaper editor, must search beyond appearances for the truth—and how he can anchor his life's work, and his heart, within the community. Waltz is a masterpiece, Larum, a master.

Timothy Pilgrim
Glen Larum's introductory novel, Waltz Against the Sky, is a tour de force in modern western realism that explores the fates awaiting young men who leave home behind for various reasons and venture out into the world.
Evan Blaine, a country newspaper editor, finds himself seizing a chance for a new start; Dink Downs, who has lost his first regular job on a Florida road crew, gets swept along by his older brother, Del, an ex-con who has agreed to drive across country to deliver an automobile for a former cellmate; and teen-ager Tony Angione is hitch-hiking from his home in New Jersey to California to see if he can find himself, employment, and a future with an uncle who may be more myth than the building contractor who can answer his prayers.
The paths of these four are all destined to converge in West Texas, where they bump up against each other and the people whom strangers are most likely to encounter in a strange place, people in the professional hospitality business and law enforcement officials who administer justice in their own way.
As Waltz Against the Sky begins, a series of uncommon incidents set in motion the events that seize control of the story and a flashback layering technique featuring the characters'  varying viewpoints carries the reader along to their appointments with destiny. While many of the encounters with the ordinary population seem to affirm a basic goodness in people, there is an underlying tension that plays out to an unexpected end.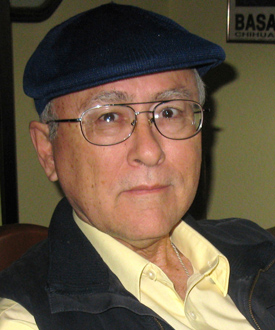 Told in a laconic western voice, the story uses distinctive narrative variation to weave different perspectives of past and present into plainsong about ordinary people dancing with fate, yet rarely recognizing their partner.The novel makes a powerful case that while randomness calls the tune in life, it is the moral ambiguity of people in power that provides the background sheet music. The only question is, will anyone waltz away?
As I settled into Glen Larum's book, Waltz Against the Sky, the little town of Indian Springs felt like Andy Griffith's Mayberry, N.C. Until it didn't. Indian Springs, sitting at a crossroads in West Texas, ended up being more like Cabot Cove from "Murder, She Wrote." More dying folks than you can imagine. You imagine how it all happened, however, just as though you were there. Coincidences. Possibilities. Good times. Good people. Bad choices.
Young Evan Blaine, minted in Montana, looking for a fresh start in Texas, learns that Indian Springs is not like other small towns. and ends up tangled in a web of crooks, jail escapees, and manhunts. Larum spins an ambitious tale and draws you in with vivid images to carry you along...
A good read. A very good read, indeed.
Charlotte Slack
More Praise For..
Waltz Against the Sky
An intriguing read, smartly written, Waltz Against the Sky beautifully evokes a fading era of journalism as young newspaper editor Evan Blaine covers a brutal crime in a small Texas town. He encounters darkly comic criminals reminiscent of an Elmore Leonard novel, police officers who play with the law as they wish, and a stalwart judge who tries to make things right for the hapless innocents as well as the perpetrators. With well-paced action and quick-flowing dialogue, the multi-layered stories of these realistic characters play into a lively plot that fuses their fates.
Carolyn Dale
"It was a place where people were good to you and when you go back, they will be good to you again."
Thomas Savage
"Be purposeful. Every step you take leaves a track."
October 25, 1997 in a letter to nephew Bryan Grasseschi.
Walking Three Bar T Publishing, Inc.
Walking3bartpublishing.com